MATILDA TANK IN ACTION AT TANK FEST
by Paul D. Handel


Description
On Sunday 30 June 2002, the annual Tank Fest was held at The Tank Museum, Bovington, in the United Kingdom. Tank Fest is one of the Museum's premier events, and attracts a large number of visitors. This year's event was no exception. On this day, a relatively large number of Museum vehicles were paraded, along with those of collectors plus a good representation of in-service vehicles kindly provided by the Royal Armoured Corps Centre, alongside which the Museum is located.
One of the most interesting aspects of this year's displays was a range of British armoured vehicles, beginning with the Infantry Tank Mark I, Matilda 1 up to the mighty Challenger 2, the current Main Battle Tank of the British Army. Among the tanks to make a circuit of the arena was the Museum's Infantry Tank Mark II, Matilda II. Although moving at a very sedate pace, the tank was hardly audible, its twin diesels moving the tank along quietly and efficiently.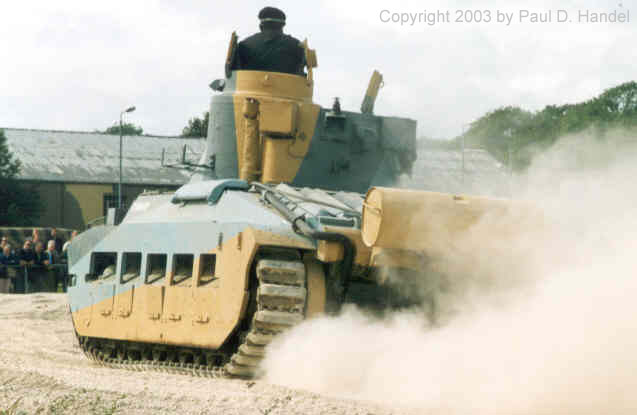 Originally numbered T 10549, the tank was donated to the Museum by the Royal Armoured Corps in 1949, after spending its career as a training vehicle. The vehicle was repainted in the desert camouflage of the 1941 - 42 period, known as the 'Caunter Scheme'. Its markings and name, Golden Miller, represent the tank of Lieutenant Colonel (later Major General) Bob Foote when he commanded 7th Royal Tank Regiment. During the period 27 May to 15 June 1942, Foote displayed outstanding leadership and courage, and was awarded the Victoria Cross, one of only two won by members of the Royal Tank Regiment.
The photos show the Matilda during a static display of the Museum vehicles and then moving around the arena during the mobile display. The Matilda is quite complete, and is fitted with the later heavy spudded tracks common to those fitted to Matildas supplied to the Australian Army. The auxiliary fuel tank is fitted to the hull rear, and the cupola is the early high style.

MATILDA TANK IN ACTION PHOTO ALBUM
Click the thumbnails in the table below to view the images full size.
Use your browser's "back" arrow to return to this page.



Article Text and Photographs Copyright © 2003 by Paul D. Handel
Page Created 26 January, 2003
Last Updated 26 January, 2003
Back to Anzac Steel Main Page