[ Home ] [ What's New ] [ Armoured Vehicles ] [ Other Vehicles ] [ Military Models ] [ Reviews ]
Operation Tamar - 1994
Australian Vehicles in Rwanda
by Shane Abdoo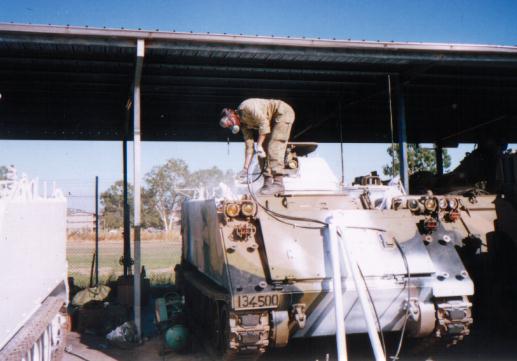 M113A1 of B Sqn 3/4 Cav Regt being prepared in UN colours in Townsville before deployment to Rwanda. The headlight lenses have been covered in grease as a mask for the overall white paint. The grease was later removed with a high-pressure cleaner.
images by Shane Abdoo
and Brendan "Chuck" Berry
Introduction
Operation Tamar was Australia's involvement in the United Nations activity in Rwanda during 1994.
Vehicles deployed on Operation Tamar were destined to be the first Australian vehicles to wear white UN livery. Three M113A1s and one M579 "Fitters" Track were delivered to Rwanda via US C-141 Starlifter.
They were deployed for six months, after which they were taken over by crews for the 5th/7th Bn RAR.

Photo Album
Click the thumbnails in the table below to view the images full size.
Use your browser's "back" arrow to return to this page.
Problems were encountered with the three-coloured camouflage base. The black showed through as a purplish hue.

(Shane Abdoo)

More preparations being made in Townsville prior to deployment to Rwanda by C-141 Starlifter.

(Shane Abdoo)

All equipment was painted white. The tyres had to be touched up with black paint! The markings reflect a 3rd TP from B Sqn, which was raised for Operation Tamar.

Modifications made for the operation included brackets on antenna brushguards to hold rolls of barbed wire over the right hull side.

(Shane Abdoo)

3 RCD Grizzlies (Canadian) at the Stadium in Kigali. The turret is the same as fitted to the USMC AAVP 7A1. However, the Mk 19 AGL has been replaced with the .30cal machine gun rechambered to accept 7.62mm ammunition.

(Brendan Berry)

The Guanian Army deployed to Rwanda with limited equipment and was subsequently given access to M113A2 ACAVs by the United Nations.

(Brendan Berry)

Australian crews were tasked to train the Guanians in driving and servicing. The vehicles came from US stocks with no modifications.

(Brendan Berry)

(Brendan Berry)

Australian crews taking delivery of the vehicles in which they were to train the Guanian soldiers. The M578 is based on the M107 SPG but has a fixed superstructure fitted with a crane.

(Brendan Berry)

One M578 Recovery Vehicle was also provided for maintenance personnel. Note the .50 cal flexible mount on the roof.

(Brendan Berry)

M578 Recovery Vehicle. Note the full complement of equipment stowed on the superstructure.

(Brendan Berry)

Article Text Copyright © 2000 by Shane Abdoo
Photographs Copyright © 2000 by Shane Abdoo and Brendan Berry as noted
Page Created 11 August, 2000
Last Updated 05 June, 2001
Back to Anzac Steel Main Page