M3 Stuart
by Mick Toal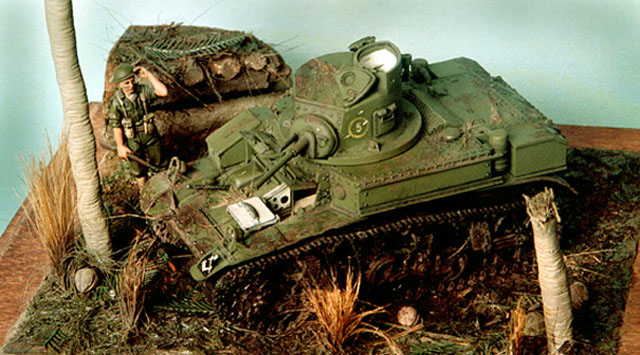 M3 Stuart
Description
Mick Toal of Albury NSW used the aging, and flawed, Tamiya M3 Stuart as a base to depict an Australian Stuart during the bloody fighting at Buna, New Guinea, in 1943.
Mick made no attempt to correct the many structural shortcomings of the little kit, and the only aftermarket items used were a set of Accurate Armour track (the kit supplied tracks are useless due to the incorrect position of the end connectors... AFV Club have since released a superb injection moulded individual link set).
A rudimentary interior was added after the front hatches were opened (a spare set of M3 front hatches comes with every Tamiya M5 Stuart and M8 GMC kit, making the job easier).
Excellent reference for the tank is at the Australian War Memorial in Canberra, which has on display a partial hulk of a Stuart recovered from the battlefield. The complete turret splash guard is not only in place, but the viewer is given a concept of the ferocity of the fighting due to the large number of projectile strikes and penetrations in the armour plate.
The starboard stowage bin and turret armoured splash ring were fashioned from plasticard, rear deck mesh corrected, and aluminium tubing was used to represent the shorter air filter hoses seen on the petrol-engined Stuarts operated by the Australians at Buna.
All of the fine grab handles were replaced with fuse wire, and the .30 cal machine guns were replaced with Italeri items, which were drilled out, along with the 37mm gun.
The tank was painted in a base of bronze green (although the tanks could have been as-delivered in olive drab, or a lot of other shades of green), markings came from the kits, and the symbol of the 2/6th Armoured Regiment was hand painted. Various bullet strikes were added with a hot needle file.
A lot of the flotsam of battle, including splintered timber and items of Japanese equipment from the excellent Dragon range, was added after the tank was set in to the base. Palm fronds are a model railway accessory. The palm trunks are from Verlinden, which had the ends drilled out and filled with splintered tooth picks (tops of palms were shot off during the battle to deny a convenient, if suicidal, hide for snipers). Coconuts were sculpted from Milliput.
The figure is an amalgam of Aifix Multipose and Dragon bits. The soldier has U.S. issue gaiters, brown boots, Australian webbing, and is armed with an M1 Garand rifle.
Mick is well satisfied with the end result, although he is hoping Tamiya's program of upgrading its World War II armour range will eventually extend to an accurate range of M3 Stuarts!