Australian Army Vehicles and Camouflage in WWII
Part Two
Camouflage in a civilian environment... an old guy remembers more!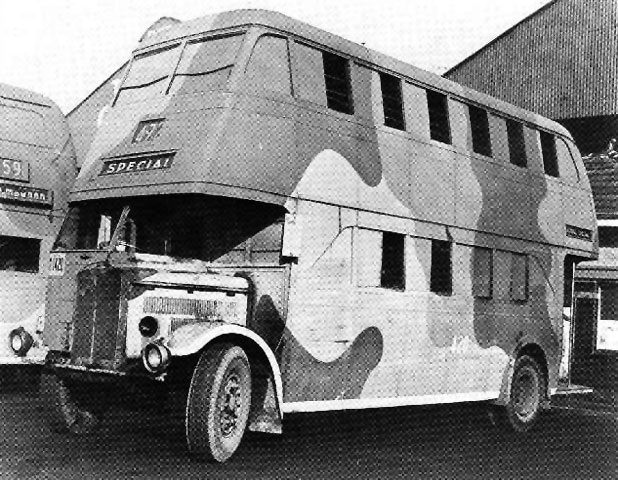 NSW Dept of Road Transport and Tramways bus in camouflage. Three-colours that were probably called Khaki, Vehicle Grey and Dark Earth. Single-deck buses also got the same colours. Buses and drivers were often called upon for troop carrying. The DRT&T Convoy Unit drivers wore a small blue title on the sleeve below the shoulder of their bus uniform. (DRT&T photo)
by Laurie Wright

This article was written by Laurence A. Wright, who was astute enough as a teenager during the Second World War to make notes on all his vehicle spottings around the Sydney area. He followed this interest even during his Army service, and has a depth of knowledge of Australian military vehicle development which is second to none. His interest has spanned more than 60 years.

Introduction

In Part One, I pointed out that instructions concerning vehicle camouflage during WW2 sometimes weren't followed exactly. I wanted to inform those folks who may not have been around in those days how things actually were. It wasn't that the average Australian soldier was "anti-instructions" - it was because he often didn't get the message, or he saw the immediate priorities were elsewhere.

As noted before, the best collection of photos showing Australian army vehicles is at the Australian War Memorial. Their pictures show that many vehicles didn't conform to the various camouflage instructions, one way or another. Also, that some army vehicles sporting chrome grilles and hubcaps weren't only in the cities during late WW2 but also occasionally in base areas of New Guinea. Of course AIF vehicles overseas generally complied with camouflage instructions issued there, but the big year for vehicle camouflage in Australia was 1942, when the war began to move in our direction. Some units leapt into the camouflage job with gusto, even giving their steel helmets a two - colour job, while other units for some reason, were rather slow off the mark.

Camouflage in the Civilian Environment
In the normal civilian environment things such as oil company storage tanks, defence buildings, water pipelines and many normal day-to-day other things got the camouflage treatment, so paint was in great demand. However, after about a year, enthusiasm for camouflage in the southern states of Australia had slowed considerably. After this time, nobody rushed around scraping off the paint of course, and if it was good stuff, it lasted for many years. For example, in the 1970s traces of original camouflage paint still showed on the roadway at the North Head gun site, the current site of the National Artillery Museum.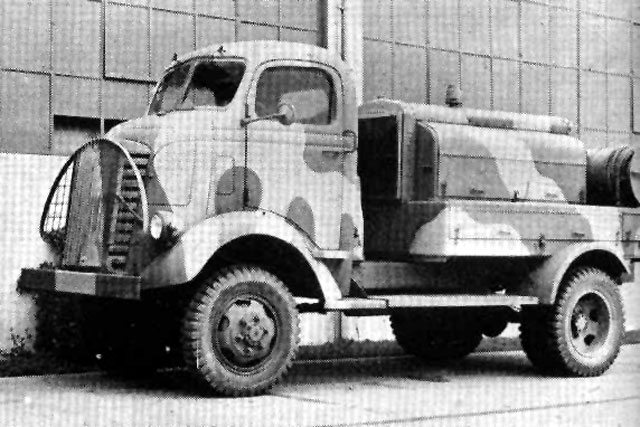 US Army model GMC Le Roi Compressor, of which the AMF received a small number, in two-colour camouflage of khaki and dark sandy yellow, at a General Motors-Holden plant. (GMH Photo)


Military vehicles weren't the only ones camouflaged. Oil company petrol tankers were given the treatment, as were many buses of the NSW Department of Road Transport and Tramways (DRT&T). The DRT&T established a Convoy Unit and their buses were often called upon for a military task, transporting troops and POWs. They were also tasked for civilian evacuations and on one occasion, transported the inmates of a psychiatric hospital from a hospital required by the army to a new location. When not required for military use, the buses and drivers did normal passenger work. Many times I came home from work in a camouflaged double-deck bus. The glass windows had been replaced with "tin" (sheet steel) ones, and when it rained and the windows were shut it was like riding in a steel box with the lid on. Fire Brigade and some Post Master General (PMG) vehicles were painted plain khaki. The PMG vehicles were also used by some of the Volunteer Defence Corps units.

Main road signs and suburb signs were removed, and if a council garden spelled out the name of the suburb with flowers, it got the chop. All this was to confuse the enemy, but naturally it confused our blokes the most. Many were the lost and wandering vehicles. I can remember us kids early in the war being asked by a dispatch rider if an army unit lived nearby. "You want Northern Camp Staff HQ? It's down that road over there!", was the chorus. A tip for the enemy - always ask the local kids!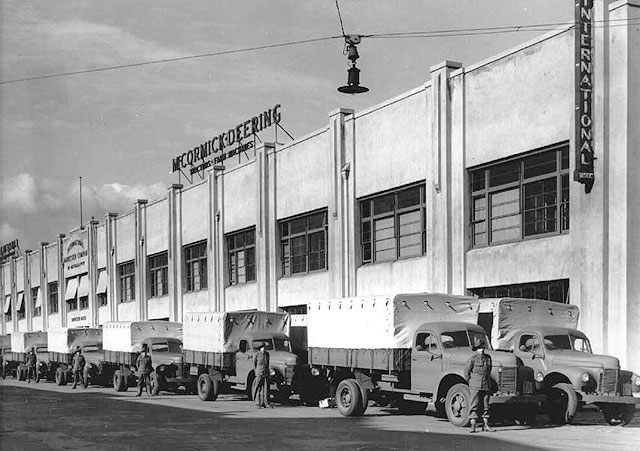 This is how it was in 1941. Collection of new International K5 trucks from the plant. Trucks are all-over khaki-green with much lighter shade of canopy. In 1942 these would have been camouflaged by their unit with at least one disruptive colour. Note that these trucks have front mudguards to take large single wheels and tyres, but the trucks have been equipped with duals. (IHC Photo)


It appears that an instruction banned the camouflaging of ambulances. The diary of one unit living in Brisbane April 1942, notes that their ambulance was "de-camouflaged". 1st Field Ambulance, who were roughing it near Newcastle April 1942, said they didn't camouflage their ambulances as their CO didn't approve of it. However, their diary did say that the rest of their vehicles were camouflaged, "light, medium and dark shades of yellow and green"!



Camouflage in the Australian Civilian Environment
PHOTO ALBUM
Click the thumbnails in the table below to view the images full size.
Use your browser's "back" arrow to return to this page.
| | |
| --- | --- |
| | 2/6th Australian Armoured Regiment, presumed to be at Cowra or Greta in their early days. Note that their Ford utilities are in desert sand colour, whereas the MG Carrier is in khaki green. The 2/6th were originally to go to the Middle East but subsequent events in the Pacific put paid to that. (L.A. Wright Collection) (6Armd.jpg) |
| | Remains of a Canadian Military Pattern "Quad" artillery tractor. It was either a "foreign" acquisition from the Middle East or refugee cargo. Faded local camouflage can still be seen, although it is Wyong NSW, June 1979. So it was rather good paint. (L.A. Wright Collection) (Quad.jpg) |
| | No this is not El Alamein! This used to be the main entrance of 3 Ordnance Vehicle Park until they moved it to the opposite side of the depot. Nearest vehicle in the colour of Yarra mud is a Reo 6x6 tractor with oxygen gas generating semitrailer. Camouflage couldn't do much to hide this one, but they tried! (L.A. Wright Collection) (Reo.jpg) |
| | |
| --- | --- |
| | A Plymouth coupe utility in eggshell finish camouflage and sporting chrome hubcaps. The bracket on side of cab was to hold a gallows style AA LMG mounting, generally regarded by the driver as a nuisance and often removed. (L.A. Wright Collection) (Plymouth.jpg |
| | A 1939 Ford coupe utility late in WW2. It has been painted an all-over khaki by its unit and its earlier camouflage bits are showing through. A good indication of colours is the AWAS uniform; brown shoes, summer light khaki dress, standard darker colour cap. Great wagons as a run-about such as for an AWAS "dispatch rider". (L.A. Wright Collection) (Coupe.jpg) |
| | WW1 Leyland "Mascot" of an AASC Company in Sydney early 1943. The Leyland was still on the army books as C-94. It sports the usual unit-applied camouflage of 1942 of khaki and sandy yellow. The lorry was occasionally given a run, but not too far! (L.A. Wright Collection) (Lyd.jpg) |
| | British Army Austin K6 6x4 3 ton trucks at Casula NSW around 1943. These probably came into our hands from refugee ships' cargo. They are still in British camouflage of khaki and black. These two were on the strength of the School of Military Engineering at Mooorebank. They are shown crossing a Steele bridge, one of which is on display currently at the Australian Army Museum of Military Engineering, Steele Barracks, Moorebank, NSW. (L.A. Wright Collection) (Austin.jpg) |
| | Chevrolet Panel Van Canteen of the Salvation Army, wearing the right stuff of an earlier time. This is southern NSW en route from Western Australia to the eastern states sometime in 1944. (L.A. Wright Collection) (Canteen.jpg) |

Article Text Copyright © 2003 by Laurie Wright
Page Created 17 January, 2003
Last Updated 17 January, 2003
Back to Anzac Steel Main Page
Back to Anzac Steel Other Vehicle Index